Residential Remodeling to Continue a Steady Expansion | Joint Center for Housing Studies
.
By Abbe Will on Oct 15, 2020 08:00 am
Moderate gains in homeowner spending for improvements and repairs are expected through much of next year as initial concerns of a possible pandemic-induced downturn have largely dissipated, according to our latest Leading Indicator of Remodeling Activity (LIRA). With greater clarity about the pandemic's impact on the US economy and given the surprising resilience of housing markets, the Remodeling Futures Program is no longer providing a downside range for its home remodeling outlook. The LIRA's standard methodology projects annual growth in renovation and repair spending of 4.1 percent by the first quarter of 2021 with gains softening to 1.7 percent by the third quarter.
The remodeling market is bouncing back from the initial shocks caused by the pandemic, as homeowners continue to spend significant time in their home and are adapting it for work, school, and leisure. The surge in DIY and small project activity is lifting the remodeling market, but it remains to be seen if the strong sales market this summer translates into larger improvements that would drive even stronger growth in the coming quarters.
Annual expenditures for renovation and repair of the owner-occupied housing stock are expected to rise from about $332 billion today to $337 billion by the latter half of 2021. While a softening of growth is projected in 2021, recent strengthening of home prices and sales activity—including second home purchases—could provide further boosts to remodeling and repair next year.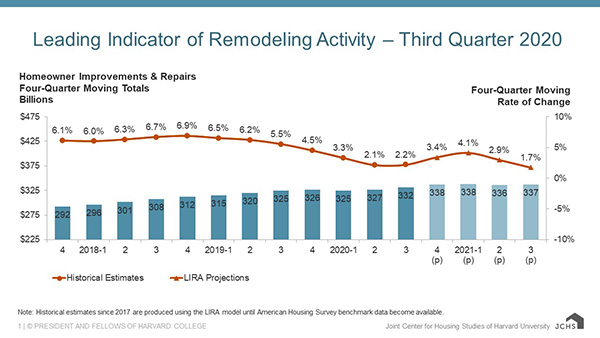 For more information, visit the LIRA page of our website.
Recent Blog Posts:
GSE Reform: Elections Increase the Uncertainty
Recent Upturn in DIY Remodeling Projects Unlikely to Continue Long-Term
The FSOC Secondary Mortgage Market Review: A Grade of "F"
Can America Finally Have a Stable Housing Finance System?
Online Fall Events Will Focus on Equitable Development, Homelessness, and Other Key Issues

commercial appraiser, commercial appraisal, commercial appraiser la